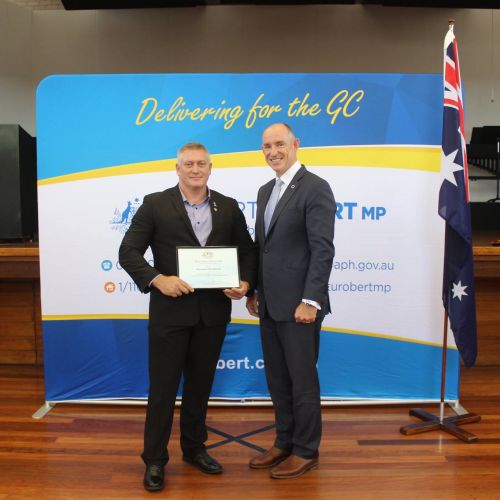 Award recognition puts value on community first
Workplace Health and Safety team member Ray MacDonald recently received a Volunteer of the Year Award for the Northern Gold Coast at the annual award presentations.
Presented by the Honorable Stuart Robert MP, the Northern Gold Coast Volunteer of the Year Awards have been running for 10 years and acknowledge the members in our community who tirelessly give their time for the greater community.
Ray was quietly humbled to receive this recognition from the community and reflected by commenting that "There are many amazing people who volunteer their time selflessly in our community".
In addition to his role within the Workplace Health and Safety unit, Ray volunteers up to and sometimes in excess of 30 hours a week for a number of community groups including youth sports for Coomera Soccer where he assists with the development and growth of young players, and providing access to sporting activities for young players who may not normally have the ability to do so.
Ray is also working towards trying to establish a homeless football league similar to those in Sydney and Melbourne and dedicates his time to PTSD and Veteran support groups assisting young veterans, where he arranges group activities or has provided immediate crisis support.
Caption: Ray MacDonald receiving his award from the Honorable Stuart Robert MP.